Silverette Silver Nursing Cups (Regular Size) + Ofeel Silicone Ring Bundle
925 Silver
Save when you purchase Silverette Silver Nursing Cups together with Ofeel Silicone Rings!
SILVERETTE ® are small cups crafted out of pure 925 silver that fit over and help to protect nipples while breastfeeding. Silver is a natural antimicrobial, antifungal, and antibacterial metal that also contains anti-inflammatory agents. It heals and prevents cuts, wounds, cracks, soreness, and infections.

Since 2002, SILVERETTE ® cups have enjoyed a resounding and growing success with mothers, doctors and obstetricians. They are the only and original nursing cups made in Italy by fully licensed silversmiths.

These cups are essential for anyone who wants to prevent or who is experiencing issues with sore, cracked nursing nipples. SILVERETTE ® cups are easy and comfortable to use – and no additional creams or lotions are necessary.

HOW TO USE SILVERETTE ®: To prevent or ease sore nursing nipples, leave a couple of drops of breast milk in each cup at the end or your breastfeeding session and place the cups directly over the nipple like a cupping glass. Keep SILVERETTE ® on as much as possible between breastfeeding sessions. Remove cups before breastfeeding. Do not use any other nipple treatments in conjunction with SILVERETTE ® . Doing so may compromise or reduce the efficacy of the product.

HOW TO CLEAN SILVERETTE ® CUPS?: Wash them daily with warm water to remove any milk residues. To keep them shiny, make a paste using baking soda with a small amount of water. Rub the paste on the cups, rinse thoroughly and dry them.

CAN SILVERETTE ® CUPS BE USED TOGETHER WITH ABSORBENT BREAST PADS?: Yes, they can. If you plan on using absorbent breast pads, place the breast pads over the SILVERETTE ® cups. Your nursing bra will hold everything in place.

DOES THE EFFICACY OF SILVERETTE ® CUPS DIMINISH OVER TIME?: No, the efficacy of SILVERETTE ® cups remains the same, no matter how long you use them! You can save and use your SILVERETTE ® cups for each child that you have and breastfeed.

CAN SILVERETTE ® CUPS BE USED TO PREVENT SORE NIPPLES?: Absolutely! We recommend the use of SILVERETTE ® as a preventive measure of sore, cracked, nursing nipples. Silver is a natural antibacterial, anti-inflammatory, and antifungal metal that kills bacteria and infections before they start.

WHAT IS 925 SILVER?: 925 silver is pure, solid silver that can be molded. The healing properties of silver are well known. It has been used in wound care for centuries as a natural antimicrobial and anti-inflammatory agent.

DO SILVERETTE ® CUPS CONTAIN NICKEL?:No, SILVERETTE ® are nickel free.
O-Feel Silicone Rings fit around Silverette to give you extra cushioning
Soft silicone (O-Feel®) and soothing silver (Silverette®) unite to form the perfect remedy for sore nipples and sensitive breasts.
Includes Two Medical Grade Silicone Rings
Made entirely of hypoallergenic, medical-grade silicone, the O-Feel® ring joins forces with Silverette® to keep your nursing cups in place and provide an extra layer of protection for the most engorged, sensitive breasts. Sleep easy knowing your Silverette® will keep up with your body's movements without discomfort or disruption to your lifestyle. With O-Feel®, you might even forget you're wearing them!
One size fits both regular and XL Silverette. Maximize comfort and positioning.
Washable with water and neutral soap. It is possible (but not necessary) to sterilize them by steam, gamma rays or ethylene oxide.
O-Feel® ring is a medical device and FDA registered.
How to Use
Gently press the O'Feel ring onto your Silverette cup. Don't force it. Remove to clean.
This item is a bundle of the following items: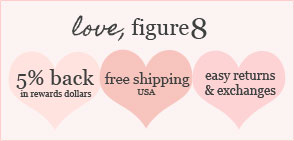 "
W
as looking for pajamas for someone 5'10"- I emailed for guidance on which set would work. They responded quickly with a suggestion- very helpful! Items were very nice.
"
Anne in Jacksboro, TX
Please wait ...